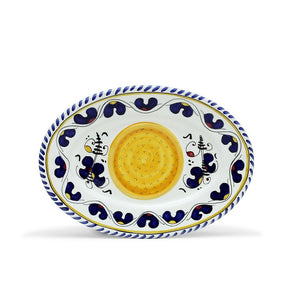 ORVIETO BLUE ROOSTER: Small Oval Tray 9" x 6"
ORVIETO BLUE ROOSTER
Collection
SKU#:
BR0026A
AVAILABLE - We currently have 36 in stock.
SIZE:
6 X 9
Regular price $58.00 $58.00 Sale
ORVIETO Green, Red, Blue Collections:
The Orvieto (or Orvietano) design is a very old and traditional pattern that originated during the Renaissance in the hill-top town of Orvieto Italy.
Truly one of Italy's most unique and interesting cities, Orvieto has a charming medieval character, mainly due to its celebrated Cathedral, a gem of Gothic architecture that took more than 100 years to build.
The 'Galletto' (Rooster) pattern's main motif is a crowing rooster that symbolizes good wishes for blessings, prosperity and well-being.

Hand made in Deruta-Italy.
All Deruta of Italy products are lead and cadmium Free. - Dishwasher Safe Not recommended for microwave use.
Size (inches): 6 X 9
AUTHENTICITY GUARANTEED

We understand that Authenticity is of the most concern when purchasing fine Italian pottery.
When you order from us, rest assured that you will receive absolutely first quality, genuine products!

- All of our products are brand new, 100% Authentic, Original products Hand Painted and Hand Made in Deruta, Italy.
- All our products are always accompanied by a Certificate of Authenticity and further authenticated with a tamper evident Hologram Sticker.
- Our company was the very first direct importer in the United States of real Deruta pottery since 1983.
- Orders are shipped promptly from our Glenview, IL USA warehouse.